Big Bertha
Big Bertha machines needed engines with 5-horsepower in order to power their reels. With 160 symbols for the reels, higher randomness degrees could also be reached.
The era of three reels was usually restricted to just fifteen symbols, though, so the high payoffs couldn't range away from several hundreds. The owners of casinos really fought for this because they wanted to provide bigger jackpots as they knew this would bring more customers in.
Big Bertha - Pros and Cons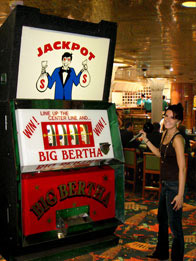 Big Bertha happened to have a very successful debut, but it soon got replaced by a bigger deluxe machine that was even grander than itself. This grand Big Bertha came with eight reels, each of which had twenty symbols on them. It cost around $150,000 to make, though, so its availability was greatly limited. The casinos in Las Vegas usually featured these bigger machines and their bigger jackpots attracted slots gamblers even more.
The biggest problem with Big Bertha (aside from its cost) was that the chances of getting jackpots were incredibly high. The chances were around 1 in about 15 billion, so even millions or billions of spins were very unlikely to bring about a jackpot.
The Appearance of the RNG
The deluxe version of Big Bertha, as well as various other similar big-reeled machines, became obsolete because of RNGs. RNGs are inner computers that randomly choose numbers to correspond to the alignments of reel symbols.
Whenever the number showed up, the slot machine with the RNG then displayed the corresponding symbols and paid out whenever necessary. With the RNG, slot machines that had high jackpots no longer had to be expensive and big monstrosities.
Thanks to the RNG, a way was paved to include progressive jackpots that helped fuel how popular the majority of well-known slot machines became the world over, like the machine for the Fortune Wheel. Nowadays, Big Bertha can only be found in museums, though.