Rules
Slot machines, or fruit machines, happen to be highly common machines of gambling that are used in both online and traditional casinos. As a matter of fact, it is responsible for most of the casino's income due to its immense popularity with gambling players.
Slots have become quite a hit with people of every age because of how simple they are. Actually, no skills are needed for this game as everything revolves around luck. When it comes to traditional casinos, you have to insert a coin, pull a lever and simply wait for several seconds for a combination to show up on the machine's screen. Your overall winnings are going to depend on the combination's results. If you get three matching symbols in the end, you win. When it comes to online casinos, however, playing slots would be similar to playing at an actual casino, aside from it taking place in the virtual world.
Tips for Slot Machines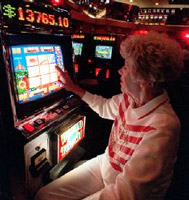 Know the rules of the slot machine. Each slot machine has rules and variations for it, so it would be vital to know those rules prior to playing or depositing any money. Ensure that you read every instruction carefully on how the slot machine works, as well, so you will know how your particular machine works as a whole.
Know the progressive jackpots of the slot machine, too. Aside from the rules, knowing which progressive jackpots are offered by slot machines would also be vital, so that you know whether you should keep playing in order to earn more. In general, progressive jackpots involve lots of money since every player bet will go into one pot that will go to the overall winner.
Playing Slot Machines
After learning about progressive jackpots and the rules of your particular slot machine, you also have to take this basic step-by-step guide into consideration on how slot machines should be played.
After loading the game, you can choose from various coin denominations. As the game progresses, you can also choose to increase the denomination or decrease it with the arrows that can be found on the machine's left-hand side.
After choosing the coin denomination that you want, click on "bet one" as many times as you want.
After pressing the button or pulling the lever, the machine is going to generate three symbols or numbers automatically from the RNG.
If you end up getting three of the same symbols or numbers on a pay line, you are a winner. If not, try again.