Progressive Slots
Several decades ago, manufacturers of slots started to incorporate advanced slots microprocessors along with progressive jackpots. Progressives meant that percentages of every placed bet would become part of the jackpot's total.
The greatest progressive slots advancement to date appeared in 1986 after IGT, a world-renowned manufacturer of slots, introduced the very first game of progressive slots that was linked through multiple links, Megabucks™. Since these slot machines were linked to just one progressive jackpot, a very big prize could accumulate while players' nation-wide "donated" onto the funds of the jackpot.
Progressive jackpots are now common for both traditional and online casinos. The very first huge linked progressive slots online was called Cash Splash; it now pays out more than $1,000,000 jackpots every month on a regular basis.
How Do They Work?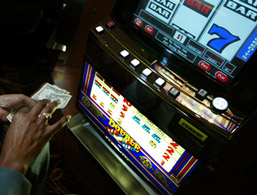 Every time a progressive slots game is played, a part of the bet will instantly go to the jackpot. Progressives have lower payouts, on average, compared to regular slots. However, the prizes tend to be much larger and thus worth playing by everyone.
So, if the progressive automatically gets 5% from the bet and places it into the jackpot, the payout will be under 95%. If you take several additional percentage points off for the profits of casino, you will have a payout under 90%.
Statistics show that progressive payouts are lower compared to non-progressives. Therefore, it would be advisable for you to just put part of your overall bankroll into progressive games for entertainment. If you get lucky, you might get a jackpot that changes your life, but if you don't get lucky, you will at least have money left over to play slots that have higher payouts.
What you really need to remember is the fact that playing slots is meant for pure entertainment.
Top Tips
Ensure that you always put the highest amount of coins possible into progressive games as you won't forgive yourself for missing out on gathering the high jackpot just because you failed to bet correctly. If you only play a single coin each time to stretch the gaming session more, do not play progressive slots. Progressive machines translate to maximum coin bets per spin.
Nothing could be worse than getting $1000 instead of millions for an extra quarter or dollar bet. When playing at traditional casinos, ensure that every coin is registered prior to play, as well. Conversely, when online, constantly check the max bet button to avoid problems.